D. Hobbs Contracting Inc.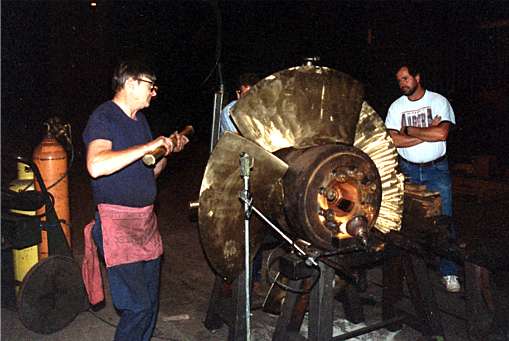 Balancing New Blades Built by D. Hobbs Contracting for Kaplan Turbine
History
D. Hobbs Contracting Inc. (DHC) was incorporated in 1993 in order to provide professional design and construction services to the hydroelectric community. It is a closely held company which allows personal participation and supervision by its principals. DHC has been involved in all phases and aspects of the hydroelectric power business. DHC has seasoned, professional personnel and a registered professional engineer on its staff. In September 2001,`DHC merged with SRHOCO in 2001 to expand its capabilities.
DHC has its main occupation in the operation and repair of new and existing hydroelectric equipment, dams, canals, head gates, waste gates and associated equipment. DHC presently owns and /or operates nine small hydro units. DHC is negotiating for nine more units which will have an aggregate capacity of 7.0 MW.
DHC has just completed the inspection of 60 dams for the Dam Safety Division of the Commonwealth of Massachusetts. Bill Fay is authorized to perform Part 12 inspections for the Federal Energy Regulatory Commission (FERC). DHC has rebuilt many turbines and generators. It has become specialized in rehabilitation of S. Morgan Smith Kaplan turbines. DHC has the ability to react quickly and to bring extensive knowledge and manpower to emergency situations.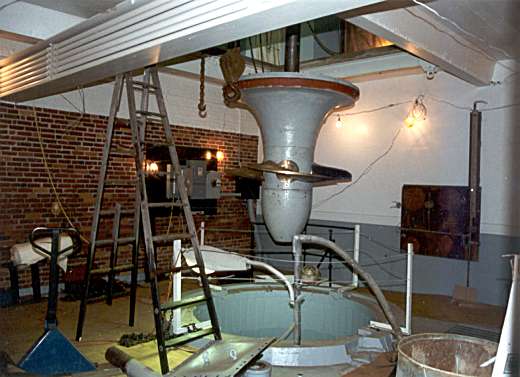 D. Hobbs Contracting drops rebuilt Kaplan nose cone through cafeteria to powerhouse at Valley Paper Company, Lowell, Massachusetts
Sites Managed by D. Hobbs Contracting
Operating Sites

Location

Units

KW

Est. Output

1
Palmer, MA
3 Horizontal Francis Units

1 Vertical Kaplan Unit

78

0

4,2

00

,000

2
Sturbridge Village, MA
2 Semi-Kaplan Units

7

0

300,0

00
3
Montville, CT
1 Horizontal Francis Unit

7

0

300,0

00
4
Winchendon, MA
2 Vertical Francis Units

20

0

700,0

00
5
Thorndike, MA
1

Warehouse

Building

s

-

-

Sites Under Agreement
6
Russell, MA
2 Horizontal Francis Units

78

0

3,200,0

00
7
Lowell, MA
1 Horizontal Francis Unit

35

0

1,500,0

00
Hydro Rehab Projects
1. Pioneer Hydro, Ware, MA - Reconditioned and installed a 38" Rodney Hunt gate case, runner, intermediate shaft and governor shaft.
2. Valley Paper Hydro, Holyoke, MA - Rehabilitation of 60" S. Morgan Smith Kaplan and 800 KW GE generator.
3. Livermore Falls, Plymouth, NH - Purchase and removal of two 38" Rodney Hunt Camelback turbines.
4. Cascade Energy Thorndike, Palmer, MA - Reconstructed powerplant and installation of 500 kW GE generator, 51" Morgan Smith Kaplan turbine, switchgear, stub-station and 3/4 mile of new transmission lines.
5. Ruger Arms, Newport, NH - Removal and rigged out a large synchronous generator from a sub-basement of the Jaffrey Fire Protection Company.
6. Shenandoah Hydro Electric, Woodstock, VA - Dismantled, inspected and rebuilt a fire damaged 300 KW hydro generator.
7. Mini-watt Hydro, Orange, MA - Installation of a 36" Leffel "A" turbine in the new eastside powerhouse.
8. Tannery Pond Hydro, Winchendon, MA - Complete installation of 2 turbine-generator sets, switchgear, hydraulic power packs, head gates, substation and transmission lines.
9. Centennial Island Hydro, Lowell, MA - Complete removal, inspection, repair and installation of a 60" Morgan Smith Kaplan unit which had self-destructed due to a catastrophic failure of the generator spyder foundation bolts.
10. Cascade Energy Thorndike, Palmer, MA - Reconstructed flood gates, penstock, intake gates and trash rack support structures. Fabricated and installed new trash racks.
11. Division of Dam Safety, Commonwealth of Massachusetts - Inspected and published reports on 60 dam for the dam safety inspection program. Reports include: physical inspection, hydrology study, hydraulic study, BOSS dam break analysis, emergency action plan, power production studies, cost estimates, professional designs and overall analysis of safety.
12. Federal Energy Regulatory Commission, Code of Federal Regulations 18: Part 12 Inspection of Wappinger Falls, NY and Gaynor Dam, RI.
13. Consolidated Edison, Red Bridge Hydro Station - Repair of generator braking system and re-alignment of runners.
14. Consolidated Edison, Indian Orchard Hydro Station - Replacement of penstock gates and installation of new dynamic brakes for generator.
15. Open Square Hydro, Holyoke, MA - Rehab and tuning of Francis turbine, gate case, repair of dynamic brakes, new stuffing box and check out of switchgear.
16. Slater Mill Hydro, Slater, R.I. - Rehab and installation of rehabbed overshot wheel.